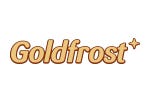 Passion for Baking
The Goldfrost line of products features a broad selection of first-class donuts, delicate and delicious croissants, tempting batter, and sweet pastry.
Goldfrost also offers a wide range of savoury snacks, pretzel pastries, and bread specialties.
Using the most up-to-date processes and equipment to prepare products with carefully selected ingredients in a proven, traditional way, Goldfrost exceeds expectations regarding quality, product portfolio and service offers.