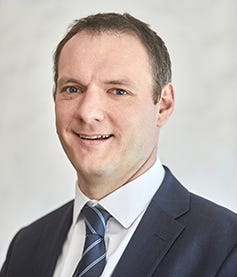 Matthew Acheson
Chief Financial Officer
Matthew Acheson and his team lead BAKER & BAKER's finance function for European and International operations, including the Supply Chain, Commercial Finance and Financial Accounting teams.
Matthew joined the business (formally CSM Bakery Solutions) in 2010 and has worked in numerous finance roles of progressing seniority in the organisation. He was instrumental in driving investment for growth and optimisation in our UK supply chain and later the commercial growth of our Modern Trade channel across Europe, before assuming the role of CFO Europe in 2017.
Prior to joining CSM, Matthew worked in KPMG's advisory division.
Matthew earned an MA from the University of Oxford and is a fellow of the institute of chartered accountants in England & Wales (ICAEW).